Isotonix® Calcium Plus
Isotonix® Calcium Plus Description
Promote and support the maintenance and building of strong bones with Isotonix Calcium Plus.  Isotonix Calcium Plus delivers calcium, vitamin C, boron, magnesium, and vitamin D3 in an readily absorbable isotonic delivery system.  Stay strong with Isotonix Calcium Plus!

Additional Isotonix® Calcium Plus Information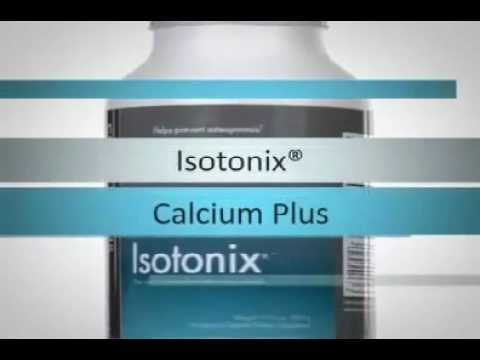 Calcium is traditionally a hard to absorb supplement which makes the isotonic delivery system a powerful way to achieve results. Vitamin D and magnesium are also added to the mixture to aid in the absorption of the high quality calcium source.
When it comes to supplements all your looking for nutritional vibrancy and absorbability. The majority of calcium supplements on the market are in tablet form and require your stomach acid to break down the tablet. If your body cannot break down the tablet as is often the case it is passed through your system and the nutrients are wasted.
In addition to an inferior delivery system, unfortunately the majority of supplements are also blended incorrectly with suboptimal forms of calcium such ass egg and oyster shells. Other supplements may also contain an common binding agent called DCP. This agent does not break down in the body and reduces the amount of calcium actually absorbed. Some brands even use harmful additives such as chlorine and other industrial chemicals. It goes without saying that these are not compounds you want to be putting into your body, especially in a so called "nutritional supplement."
Isotonix Calcium Plus stands alone in the market due to its ultra high potency and bioavailable calcium blend. This means a lower cost for you as well as increased nutrition and better overall results from your calcium supplement. Do not let labels mislead you, the only amounts that matter are the actual amount absorbed and the Isotonix delivery system remains the most efficient way to absorb nutrients quickly.
Primary Benefits of Isotonix® Calcium Plus:
· Supports skeletal health
· Adequate calcium and vitamin D throughout life, as part of a well-balanced diet, may reduce the risk of osteoporosis
· Adequate calcium and vitamin D as part of a healthful diet, along with physical activity, may reduce the risk of osteoporosis in later life
· Supports cardiovascular health
· Plays a critical role in the normal contraction of skeletal and heart muscles
· Supports normal muscle use and performance
· Supports healthy teeth and gums
· Helps to maintain healthy immune functions and general wellbeing
· Helps maintain healthy cholesterol levels
· Supports proper nerve conduction
· Promotes normal regulation of hormones and enzyme production
· Promotes normal hormone secretion
· Promotes normal enzyme and hormone regulation
· Helps to ease the discomfort of PMS
· Promotes normal blood clotting
· Supports healthy blood sugar levels
· Supports healthy body weight
· Supports healthy pregnancy and fetal development